I don't have a lot of space over here in Japan, so every time I move my office/gym I have to re-evaluate my equipment. This was especially true last month since I moved into yet another new gym. It is freaking awesome and you'll be seeing a lot of new vids of it soon.
What are my mainstays when it comes to gym equipment?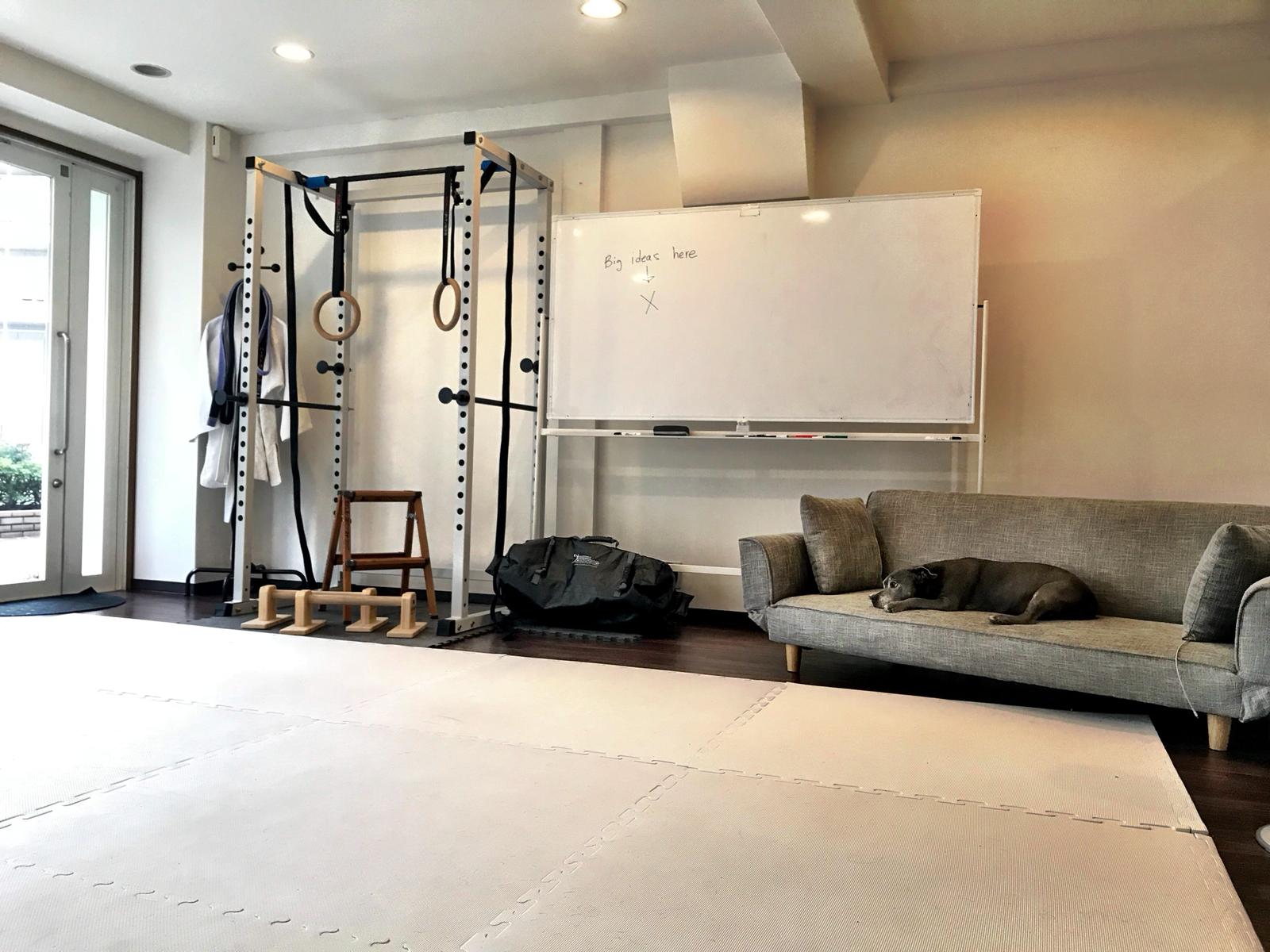 First off, a huge whiteboard is crucial for mapping out my thoughts and plans; I'm a visual guy and I like to stay organized. I'm also a big coffee fiend so I gotta have a coffee area.
Here's the short list of studio contenders in my gym . . .
20 x 2 inch 1mx1m mats from BodyMaker for rolling and the illusion of space.
Squat-rack frame for pull-ups and to hang my rings. Plus curls in the squat rack. Hehehe
Custom Pbarz by my buddy Dusty
Coffee by Sango – roasted in Okinawa and helping to save reefs
and a step ladder . . . 'cause I'm short. Just kidding. I use it for step-ups. But also, I'm short.
Truth be told, Japan has awesome parks and I really prefer to train outside. Right now in my life, all of my training is for outside stuff like hiking and climbing. Well, that and getting better at choking people out. 🙂
However, "fitnessing" is what I do and I have quite a bit of other stuff in my gym. If the rest of my gear caught on fire or was eaten by sharks, I think I'd cope, but . . . I do still have a soft spot for the old rowing machine. And I have been known to use a weight vest, the occasional dumb bell, handstand blocks by Yuval, and handstand canes by Dusty.
On top of that, in my city we have to pay to have unwanted items collected and there is a whole system of dates and stickers that I don't want to get into here. Let's just say that most of my unwanted gear has found a new home via the expat grapevine.
I love a good garage gym, so leave a comment and tell me what tools you're packin' in yours. 🙂