Recently I spent 17 glorious days in Italy with my family. This was the infamous follow-up to the Italy trip we tried to take 3 years ago. Some of you might remember the "little" incident I had with my ankle that caused me to cancel our European adventure. 
I thought I'd never live that down, until this recent trip. I went all out and we covered a good chunk of Italy in those couple of weeks. Here's a breakdown of where we went.
Milan, Florence, Sienna, back to Florence, Lake Garda, Venice, back to Lake Garda, Napoli, Pompeii, and finished in Rome where we spent 5 days.
Yeah, we didn't mess around.
Typically when I travel it's for work and that means that I'm doing some sort of training while I'm in country. However, this time around, outside of a couple handstands and some some stretching here and there, all I did was walk, eat, drink, sleep, and repeat. It was fabulous.
Each day my family and I averaged 20,000 steps a day.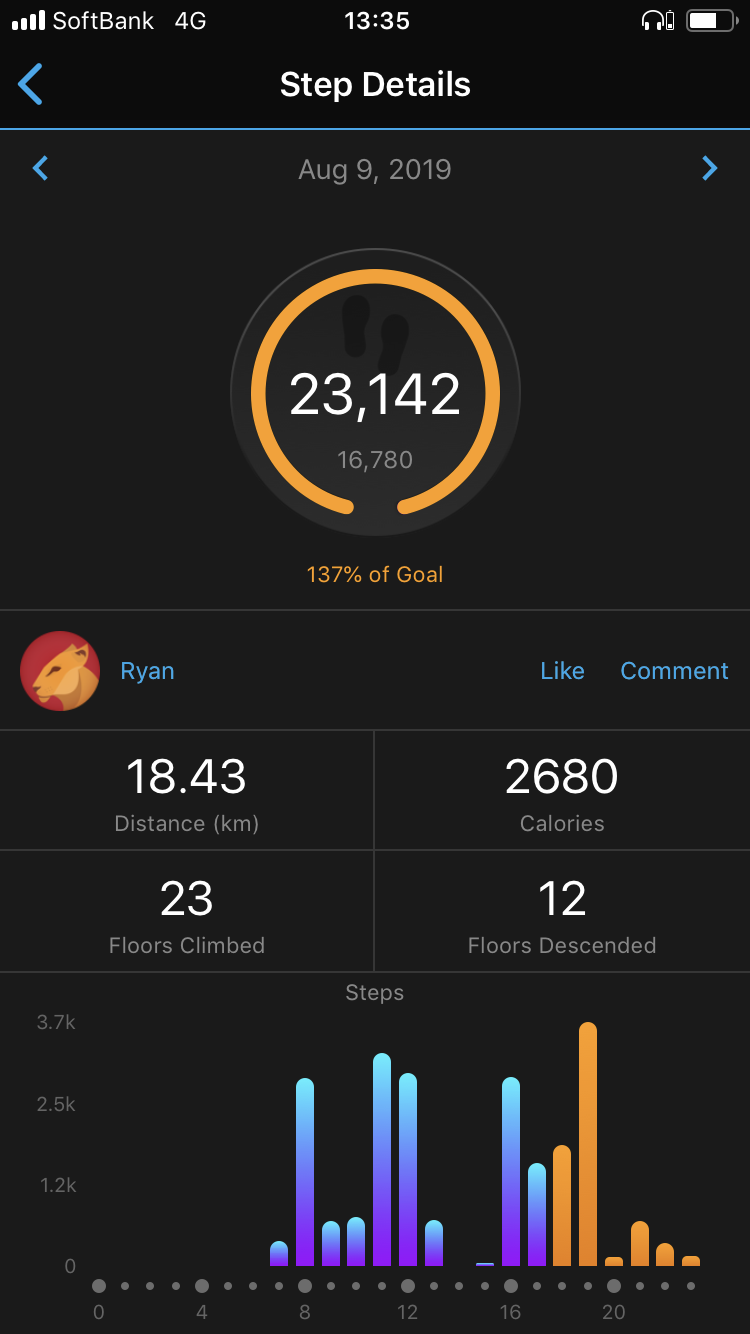 That included walking up many flights of stairs to the top of towers overlooking gorgeous cities. I miss it already.
My kids were real troopers and I'm very proud of how they kept up with us. We kept them fed VERY well and they even got to play video games back at the AirBnB each night much to their delight.
I was the pack mule for my family, carrying a small ruck with water, travel guide, extra clothes, and this and that. It wasn't heavy but over the course of a busy day walking around the city, climbing towers, visiting churches, and exploring castles, it really started to take a toll on the body. My wife and I both learned quickly that a little bit of stretching every day made the journey that much more enjoyable. The wine and food helped a lot too. 🙂
If you've been following me on Instagram you'll know that this year I've done quite a bit of loaded ruck/backpack training. That training really paid off on this Italy trip because rather than take suitcases, my wife and I decided to travel semi-light and only take two backpacks for the four of us. One reason was because we knew we'd be visiting multiple cities and thought it'd be easier if I just carried everything. The other was that I knew that the AirBnBs we were staying in had washing machines so we didn't really need to take that much stuff. The two bag deal worked out really well because it was easier on my wife and kids and we were able to move easily to and from our destinations. I also packed a REI 50L travel duffle that packed into a tiny size that we used in Rome to haul back gifts. We saved our shopping until the day before we were to come back to Japan so that we didn't have to lug a bunch of gifts around Italy. I've done this travel thang a time or two. 😉
Let's get back to the stretching part of things. I decided well before this trip that I wasn't going to "work-out" or even do any locomotion on this trip. I wanted to step away from anything work-related for a couple of weeks and simply enjoy being with my family and friends while exploring Italy. As I've written above, it wasn't that I was just lounging around in a beach chair doing nothing each day. We were walking a crazy amount of steps each day and we were all pretty worn out at the end of the day.
There were only a couple of times that we relaxed until around 9am in the morning rather than heading out the door early to visit the sites. On those slow days I would take some time to go through the GMB Warm-Up routine along with a couple ankle, shoulder, and hip stretches. I would say that I only spent a total of 15 minutes doing all of this. Really, I was just looking to loosen up some tight spots and places that I knew would bark at me later in the day like my ankle and neck from carrying the backpack all day long. Then whenever we would stop to check out something I would do a quick ankle stretch along with some hip and shoulder circles.
That's all I did in terms of stretching and mobility and it was good enough.
Stretch for 15 minutes in the morning couple times a week. (General Routine plus some extra stuff for the areas that need it)
Do some quick mobility stuff throughout the day when I needed it.
The thing is when it comes to mobility and stretching, this is also probably good enough for all of us out there no matter where we are. It doesn't need to, nor should it, be complicated. Figure out what you need and do a little bit of it when you need it.
Here are a few other things that helped make this trip an enjoyable one.
• I didn't eat anything until lunch time. This was partly because I knew I'd be eating a lot of food later in the day but also because I wasn't really hungry due to the previous night's meal. I love Espresso and a double shot was good enough to tide me over until lunch. Now that I'm back in Japan I really miss those Espressos. And the food… speaking of which.
• I didn't worry about what I was eating. Yes, I skipped breakfast but after walking all morning I'd eat whatever I wanted to for lunch and even enjoyed a glass of wine. Then we'd walk again all afternoon and again I'd eat whatever the hell I wanted to eat in the evening. And of course wash it down with a couple glasses of wine and even grappa from time to time.
• I didn't take my computer nor did I do any work while I was there. I was fully focused on my family and friends that we meet when we were there. It was wonderful and something that I realized I should be doing more of in my regular life too.
• I didn't worry that I wasn't "working out" and I didn't do any silly tricks in front of beautiful places to post on instagram. And while I did post to Instagram from time to time, it was for my friends and family and I only logged in once a day to social media at night when the family was in bed.
There you are. Just some thoughts and rambles about what I did and didn't do while traveling in Italy. Let me know what you do when you travel. Would love to hear from you.