It's obvious that Bree, full name Brianne Artio, is in most of my vids and pics. And while that might seem placed, kinda is, it's mainly because recently she wants to be closer to me. It used to not be that way but as she's gotten older I find her coming over to me more and more while I'm doing things.Since that's a bit dangerous with me doing my funky skills stuff, and I don't want to accidentally hit her, I've learned that if her bed is near by she'll chill out and sleep. That's also obvious in all the vids.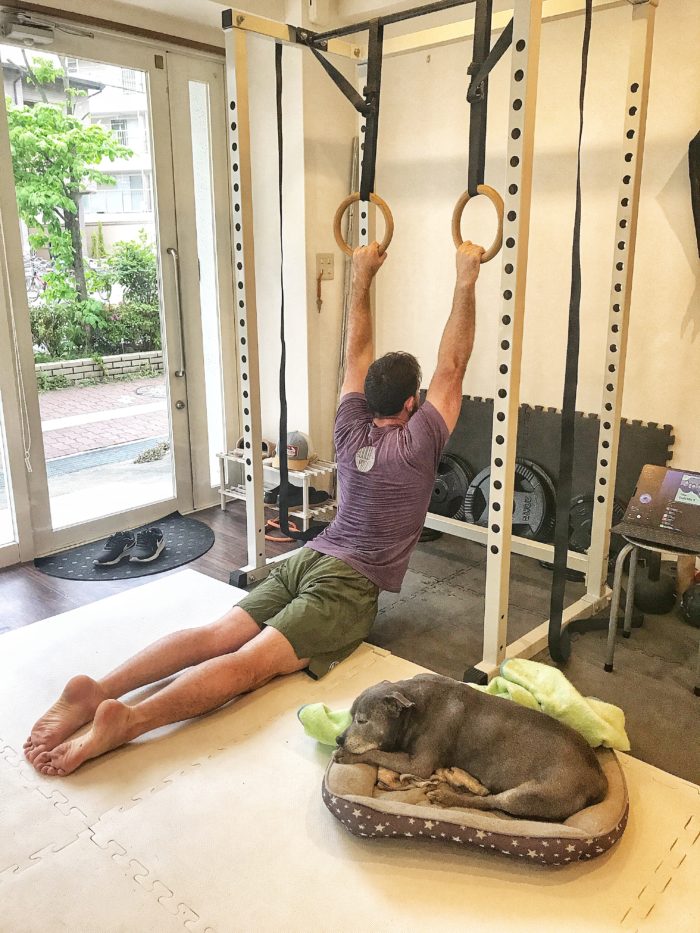 Bree is 15 years old now and the past few months have been pretty rough having seen a rapid decline in her mobility. Also why she is usually so chill in her vids.
She has good days and bad days but more bad than good recently which pains me to see. No more long walks, and in fact the short walk to the gym a couple times a days seems to be just about her limit now.
With that being said, she's doing remarkably well for her age and hopefully we'll still be seeing plenty of appearances from her this year in my vids and pics. 🙂
Today's Theme -> Ring Combo
Prep – warm-up stuff for the back, hips and shoulders
Practice/play –
Bent Arm Press to HS, bent arm lower to double arm lever on Pbarz
Front Lever
Play – played with this combo that I posted the other day.
Push – Rings Complex
Do the following moves back to back with stopping and without letting feet touch the ground.
3 rounds with 3 minute rest between rounds.
1 muscle-up
3 L-sit to Bent Arm Stand
5 dips
3 inverted rows
5 l-sit chin-ups
Song of the day -> La Calle del Infierno by Cienfue