What the hell have you been up to, Ryan?
Glad you asked! I've been having a lot of fun lately. Allow me to share.
In a nutshell, there are only a few activities that I really want to spend my time on; hiking and climbing, BJJ, and for a lack of a better name, floor play. You know, that stuff you see me do in all those videos.
As I get older I find myself wanting to spend less time "in the gym" and more time doing what I want. Sure, I could scrap the training altogether and just pursue my interests. There's nothing wrong with that! However, there are still areas of my strength, flexibility, and motor control that I want to continue to improve so that I can participate and enjoy those activities for as long as I possibly can. Sound familiar? It should since that's what we're about in GMB. 😉
Back in December I decided that I needed a program for 2019. Rather than sitting down and creating one for myself, I took Dan John's advice and reached out to someone to design a program for me.
"the

coach

who trains

himself

has an idiot for a client." – Dan John
I'm a pretty lucky guy because I'm surrounded by amazing coaches that I not only look up to as mentors, but also consider friends. One of those people is Mercedes Pollmeier of www.modusathletica.com
Mercedes and I go back a long time.
Funny story time. I was on a flight coming back from a family trip many years ago reading this book recommended by a friend. I was really enjoying it when I came across a quote at the beginning of a chapter that looked oddly familiar; she was quoting me! As I continued reading, stupid grin on my face, I saw a reference to GMB! I had no idea we were in this book and I gotta say, it really made my day.
I sent her an email thanking her and over the years Mercedes and I have become close friends. I can't tell you how thrilled I was when she became a GMB Trainer. Mercedes has an incredible background including elite level competition in tennis and bouldering, Precision Nutrition Level 2 Coach, a Master's in Human Movement and is one of the top outdoor athlete coaches around.
It only made sense for me to bug her about coaching and setting up a program for me — she's got all the creds and experience in what I want to do, on top of that, she knows me. I could have reached out to any other respected strength trainer, but it was so obvious that she was the right person to help me. I'm glad she said yes. 🙂
The past couple of months has found me doing heavy (for me) deadlifts, heavy single-leg work, heavy upper body complexes, weighted hikes and walks, more mobility and stretching, locomotion, and eating lots of good food. Big thanks to my wife for the meal prep.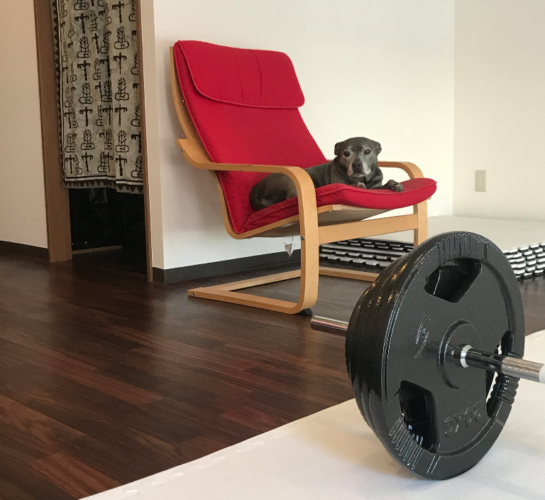 Those weights won't lift themselves, Ryan!
The program that Mercedes set up for me was so different from what I would have created for myself but it was precisely what I needed. Only a couple of heavy strength sessions in the gym, lots of time outside, and she even helped me with my bouldering.
Mercedes' program mainly focused on outdoor activities, but surprisingly it has also helped my BJJ. Not in terms of me turning green and Hulk-like in being able to man-handle my opponents, but in helping me become more resilient to the impacts of rolling with heavier guys. Very nice unexpected plus.
I've come to the end of this phase of my program and with spring just around the corner I'm looking forward to getting out in the mountains for an extended trek!
Thank you Mercedes for being my coach these past couple of months. 🙂
Be sure to check out her website and train with her if you have the chance.